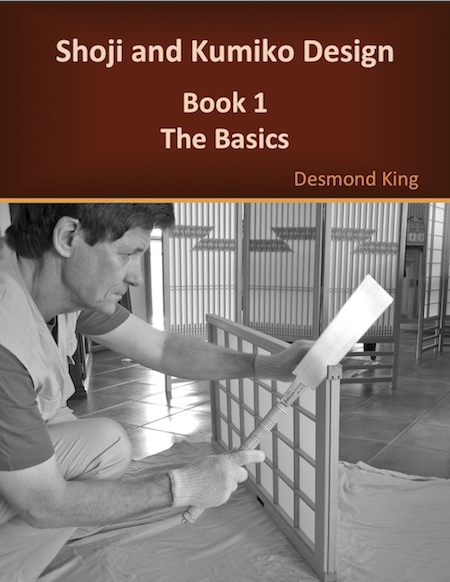 With a history dating back nearly a thousand years, shoji – translucent paper-backed sliding doors and screens – are an inherent part of Japanese tradition and culture; but their beauty and charm can equally be adapted to any Western home.
Shoji and Kumiko Design: Book 1 The Basics, the first of a planned series of books on shoji and the vast array of intricate patterns possible within the shoji frame, covers in detail all the basic skills and techniques needed for making traditional shoji. The shoji and patterns described in this book can be made with the tools found in any normal home workshop. Japanese tools are not essential.
Book 1 features:
Extensive information on the Japanese plane – the Kanna – and detailed instructions on adjusting a new Kanna, and how to maintain and use it so that it always performs at its peak.
Detailed step-by-step instructions on how to make three different kinds of shoji with progressively more complex Kumiko pattern arrangements. This includes a number of sawing and joinery exercises for you to complete so your frame and Kumiko joinery is accurate, firm and tight.
Explanations of different rail and stile joinery options and different structure and rail types so you can add variety to your own shoji designs.
A comprehensive explanation of Kumiko interval and pitch calculations that can be applied equally to the simplest or most complex pattern arrangements.
Detailed step-by-step instructions on making three Kumiko patterns, including four different methods of making the asa-no-ha pattern.
Numerous photographs and diagrams to complement the instructions and information.