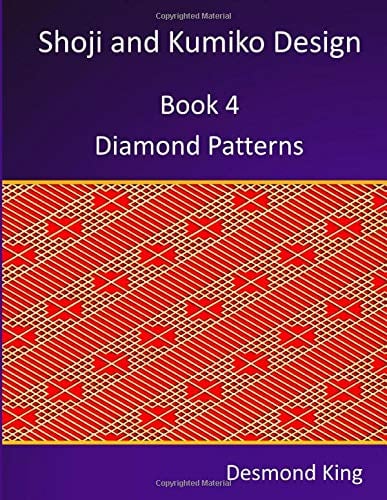 Book 4 Diamond Patterns is the fourth book in the Shoji and Kumiko Design series, and follows on seamlessly from Book 3 Hexagonal Patterns. In Book 4, Des King gives detailed instructions on making 31 stunning patterns in the diamond (hishi-gata) jigumi arrangement, including the spectacular yotsu-kude four-way joint and tombo dragonfly pattern.
More than 350 photographs and diagrams guide you at each stage on making these patterns using tools found in any Western workshop, and simple shop-made jigs. As with Book 1 The Basics, Book 2 Beyond the Basics and Book 3 Hexagonal Patterns, no specialized tools are required for any of the patterns covered in Book 4.
About the Author
After completing the twelve-month Postgraduate Architecture Course at Shokugei Gakuin, Toyama, Japan in 2009, Desmond King returned to Australia and set up a workshop on the Gold Coast, Queensland, where he makes shoji and continues to explore the many advanced patterns in kumiko-zaiku.
Product details
Paperback: 122 pages
Publisher: D & M King (14 Nov. 2018)
Language: English
ISBN-10: 0987258338
ISBN-13: 978-0987258335
Product Dimensions: 21.6 x 0.7 x 27.9 cm